New Comic Book Day is tomorrow and World's Coolest does not want you to miss out on these hot picks!
ACTION COMICS #988
"THE OZ EFFECT" part two! As Superman struggles with the ramifications of Mr. Oz's identity, the mysterious figure's origins and the long road to Superman's doorstep finally reveal themselves.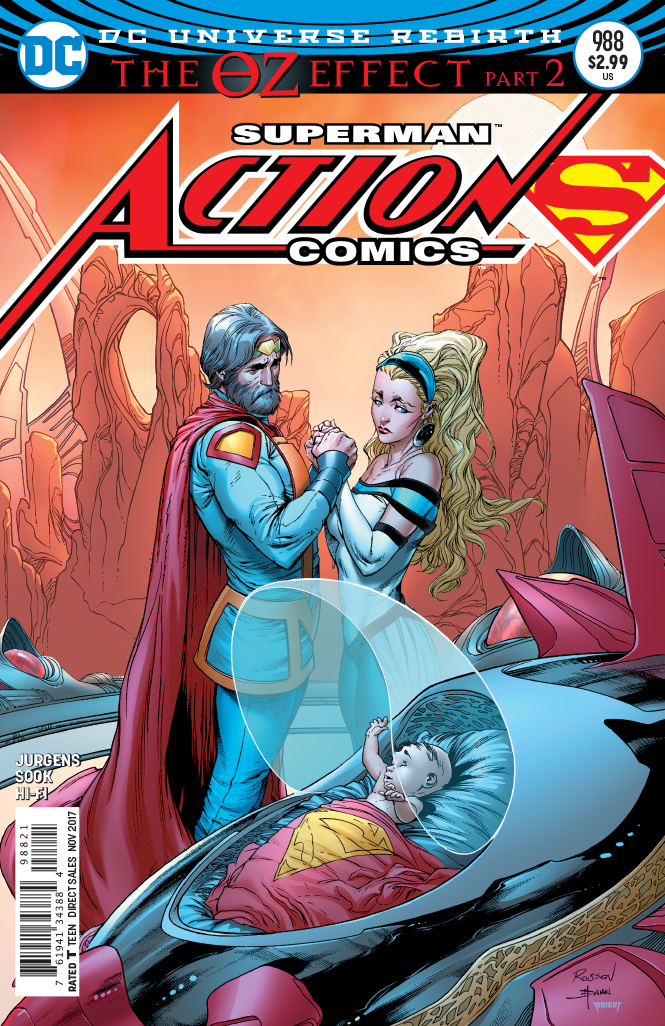 BATMAN THE MURDER MACHINE #1
As the events of DARK NIGHTS: METAL rock the DC Universe, the creatures of the Dark Multiverse stand ready to invade our world! How can even the World's Greatest Heroes stop a horde of deadly beings that appear to be powerful, nightmare versions of familiar figures? Find out in these special tie-in issues!
REDNECK #6
END OF STORY ARC! "DEEP IN THE HEART" reaches its blood-drenched finale! All the death and destruction the Bowmans have caused finally leads the authorities to their little farm. Surrounded by cops with no way out, is this the end for the Bowman clan? Surely, Granpa will have something to say on the matter…
CROSSWIND #4
"FIRST THERE IS A MOUNTAIN"-Hitman Cason Bennett and housewife Juniper Blue have somehow switched souls, and now those closest to them are beginning to smell a rat. Friends, family, and lovers are closing in, to say nothing of the vicious psychopath who may have deduced their secret and is howling for their blood!
WAR MOTHER #2
A new legend for the year 4001 A.D.! With her homeland embroiled in a crisis of life and death, War Mother must venture beyond the walls of The Grothe bioengineered utopia that birthed her – in search of a mysterious citadel that could save her people! But, to reach it, she must endure an onslaught of 41st century Earth's most perverse monstrosities and fight for survival across the harsh landscape that has subsumed our once-fertile world… With only her sentient sniper rifle to aid her, can one lone soldier stand resolute against the shadows of the future's darkest frontier? In the footsteps of BOOK OF DEATH and RAI, War Mother's punishing pilgrimage marches onward as New York Times best-selling writer Fred Van Lente (ARCHER & ARMSTRONG) and incendiary artist Stephen Segovia (NINJAK) push Valiant's newest breakout sensation into a perilous quest to the farthest edges of 4001 A.D.!
ROBOTECH #3
HARMONY GOLD'S CULT ?80s TV SERIES, ROBOTECH RETURNS FOR ALL-NEW ADVENTURES! COMIC WRITTEN BY BRIAN WOOD (DMZ, BRIGGS LAND, NORTHLANDERS) AND ILLUSTRATED BY  MARCO TURINI! FEATURING CLASSIC CHARACTERS RICK, LISA, MINMEI, ROY, CLAUDIA AND GLOVAL, THIS NEW COMIC SERIES WILL DELIGHT ORIGINAL FANS AND NEWCOMERS ALIKE!
NORMALS #5
"This Must Be The Place"
The Normals now know and accept that they're different…but what they can't decide on is all the rest. Are they still a family? Are they on a fool's errand? Can they trust one another? As they try to figure this all out, the Normals find their first Automaton that they must awaken-so he knows the truth about his existence and has the choice of free will. Only one problem, this Automaton seems to be a MURDERER. Raising the question: do you give awareness to something that's already evil?
Created and written by Adam Glass (executive producer of Supernatural & writer of Suicide Squad) with art by Dennis Calero (X-Men Noir).